Candyvault

A map of Candyvault.
Quick Info
Type
City
Level
30
Location
Near center of Arcana.
Inhabitants
Arcanians
Xenians
Background Music
Candyvault sits at a crossroads between many of the major cities. The Gem Shop is located here.
Geography
Edit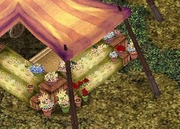 Points of Interest
Edit
Informally referred to as "The Sugarplum Kingdom" by players.
Ad blocker interference detected!
Wikia is a free-to-use site that makes money from advertising. We have a modified experience for viewers using ad blockers

Wikia is not accessible if you've made further modifications. Remove the custom ad blocker rule(s) and the page will load as expected.