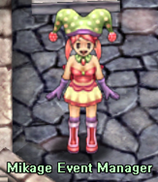 Event Manager Mikage
is an event manager located in
Brynhilld
. She hosts events for the city's residents and visitors.
CBT Only Daily Perks
Edit
Closed Beta Testers were given the opportunity to receive buffs from Event Manager Mikage. CBT players simply had to talk to Event Manager Mikage in order to receive these perks.
Daily Buffs
Receive an increase of 20% to experience gain, attack power, defense, magic power, and magic defense for 1 hour.
Receive an increase of 3 to movement speed for 1 hour.
Daily Jewels
Daily House Items
Receive 1 Special House Contract, Poyo Carpet, Poyo Doormat, Snowman, Icy Bed, Ice Cream Cone, Icy Piano, Wafer Fridge, Donut Carpet, Decorated Bed, Scholar's Blackboard.
Receive 2 Plush Poyos and Poyo Tables.
Items List
Edit
All of Event Manager Mikage's items cost 500 Krons each.